Agents
Patrick Young
Patrick Young is a dedicated Real Estate Consultant/Broker and family man located in Green bay Wisconsin, serving Northeastern Wisconsin. Married with 4 children and 10 grandchildren, who he loves spending his free time with, along with friends in the woods and on the water.
Patrick has worked with customers and clients in some capacity for over 30 years. His goals are:
• Meeting or exceeding your expectations.
• Putting you in a position to make the best decision in your real estate transaction.
• Being a problem solver, making sure you have a smooth real estate transaction.
• Being a tough negotiator always working in your best interest.
He spent the early days of his career focused on gaining specialized knowledge in real estate one specialty at a time. His pre-professional days can be traced back to being a lifelong outdoorsman, so vacant land/waterfront property were Patrick's natural starting points.
As an owner of waterfront property Patrick has personal experience handling the specific challenges buying/selling waterfront property brings, through the eyes of an owner understanding things like:
• Shoreland Zoning.
• Impervious space.
• Docks.
Lastly, he focused on residential real estate, where he learned from the bottom up how to become a successful Residential Agent. After successfully learning and proving himself, he made the decision to become a Real Estate Broker.
Being a part of our Firm has allowed him to provide his specialized services to his clients in way no other Firm can. In his words… "I don't consider myself a Salesperson, I consider myself a match maker."
Jeremy VanHulle
Being born and raised in Northeast Wisconsin, Jeremy created his childhood memories outdoors at his family's cabin in Northern Wisconsin. He understands that the value of a family cabin is more than just R&R and bringing families closer together, but rather building memories of fishing, hiking and exploring the outdoors together that will last a lifetime. But that's just the tip of the iceberg in where his drive and passion comes from.
After graduating high school, Jeremy pursued a civil engineering degree but that direction quickly changed when he was introduced to the Abstract and Title Insurance business. After that, he spent many years learning the "Land Trade", everything from how property was divided by the government, searching public records, understanding the fundamentals of real estate, chain of title events, mapping legal descriptions to handling real estate transactions to closing. This proved to be the perfect stepping stone into property sales.
Now after nearly a decade of real estate experience and seeing how small town service was getting lost, Jeremy decided that a Recreational specific Real Estate Company would be perfect for helping families looking for that dream property. Old school customer service is how that company operates. Combining his vast real estate experience with his passion for the outdoors, and extraordinary customer service, Jeremy is uniquely qualified to help you in your next land sale or purchase by providing the expertise of a full time real estate broker that loves the outdoors as much as you.
Patrick O'Hearn
A Wisconsin and Michigan licensed real estate broker, Patrick has been helping people buy and sell recreational property since 1995. Particular areas of specialty are recreational lots and land, Wisconsin hunting land for sale, Wisconsin lakes lots, Menominee River property, and cabin and cottage property for sale. Whether he's in the woods or on the water, Patrick is often heard saying, "I can't believe this is my job." Outside of the world of real estate, Patrick is a married father with two children, who also share his love of the great outdoors. If you're on the hunt for a vacation property in Wisconsin or Michigan, please give Patrick a call.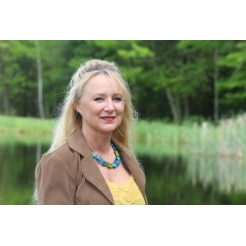 Jacqueline Jobst
Jacqueline is originally from Southeast Wisconsin, but it was her time spent on the lakes in Waushara County where she grew to love the life of the outdoors in Wisconsin.
Jacqueline is a true outdoors woman and can be found exploring the state in all seasons. She enjoys camping and hiking in the summer, archery and gun deer hunting in the fall, and ice fishing and cross-country skiing in the winter. Even her everyday life gets her in the outdoors: running daily with her two Huskies and raising her chickens, ducks, rabbits and pigs.
She is a married mother of two adult children and a grandmother of one. She has over 30 years in the customer service industry with over 15 years in Marketing and Promotions. This experience has given her the understanding of the need for clear communications and timely follow-up.
Jacqueline enjoys meeting new people and getting to understand their needs and matching them with a solid solution. If you are looking for an agent to truly understand your situation and one that will come to the best solution for you, give Jacqueline a call.